The final round of the New Zealand Flag Referendum has begun, which will decide once and for all whether New Zealanders will keep their current flag or change it.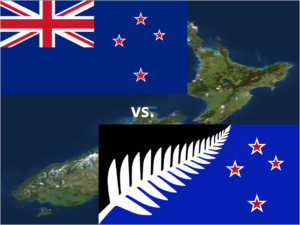 The challenger, Kyle Lockwood's Silver Fern (Black, White and Blue), must defeat the existing national flag in a simple head-to-head ballot, which began on 3rd March and closes on 24th March, to become the new flag.
Lockwood's Silver Fern (B.W.B.) narrowly won the referendum's first round late last year. It triumphed over his other design (Silver Fern (Red, White and Blue)) by 15,324 votes in the fourth and final iteration after votes for the three other candidates had been distributed following their elimination.
The latest opinion poll, conducted by Newshub and Reid Research, shows clear support (70%-30%) for the existing national flag.
A full breakdown of the first round can be viewed here.
Alex Crouch is a 2014 journalism graduate from Southampton Solent University. He has followed Formula One since before he started infant school, was a Games Maker during the London Paralympics and saw Pink Floyd reunite for one song at The O2 in London. Links: Twitter, blog, YouTube. Alex is an accredited Flag Institute journalist.