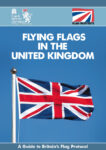 What is correct UK flag protocol?
What rules apply when flying flags in the UK?
Flying Flags in the United Kingdom (Flag Institute/UK Parliamentary Flags & Heraldry Committee, 2010, revised 2020) is the authoritative guide.
Find a few simple rules to follow when flying the UK's national flags in different situations:
UK Parliamentary approval
includes the Union Flag (or Union Jack) and the flags of England, Scotland and Wales
practical, easy to use
clear illustrations and diagrams
distributed to every UK government department and local authority
for anyone with a flagpole
View or download for free in PDF format.
Or read online/skip to a named section by using the links below: