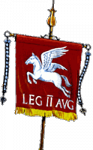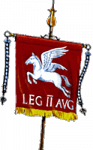 Vexillology: the term for the scientific study of the history, symbolism and usage of flags, and by extension for any interest in flags in general.
Vexillologists seek to establish a body of practice for flag design and usage. They wish to create a body of theory to explain flag development. And they aim to understand and explain the importance of flags in the modern world.
The word is derived from the Latin vexillum – the standard carried by the Roman army and the closest equivalent in the classical world to the modern flag.
Every two years, vexillologists worldwide meet to share information, opinion and ideas at the International Congress of Vexillology (ICV). The first ICV was held in Muiderberg (The Netherlands) in 1965, and since 1969 the congress has taken place under the auspices of the International Federation of Vexillological Assocations / Fédération internationale des associations vexillologiques (FIAV).
The Flag Institute has hosted the ICV on three occasions: ICV5 (London, 1973), ICV19 (York, 2001) and ICV27 (London, 2017). The Flag Institute also assisted the Heraldry Society as host of ICV10 (Oxford, 1983).
For details of the proceedings, and to obtain free PDF downloads of many papers, please click below:
ICV5: some papers appeared in Flag Bulletin; some are available as free PDF downloads; some remain unpublished with no known copy.
ICV10: all papers appeared in Flag Bulletin 26 (1-3); a full list of titles is forthcoming.
ICV19: all papers are available as free PDF downloads.
ICV27: all papers are forthcoming as free PDF downloads.
ICV29 – hosted by Heraldica Slovenica – will be held in Ljubljana (Slovenia), 11-15 July 2022.
For more information, please visit the official ICV29 website.