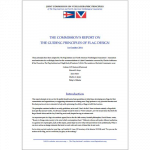 The Guiding Principles of Flag Design (Flag Institute/ North American Vexillological Association, 2014) are full of best-practice advice for every flag designer.
This PDF guide will help those developing a new flag for their community or organisation, or suggesting changes to an existing flag.
Free to view or download here.
Terminology, basics, colour, structure, devices and symbolism are all discussed in detail.
As a set of universal flag design principles, however, these guidelines do not cover aesthetic appeal.

Aesthetic preferences vary from culture to culture and from person to person. 'Beauty is no quality in things themselves,' as Scottish philosopher David Hume remarked. 'It exists merely in the mind which contemplates them; and each mind perceives a different beauty.'

Instead, the Guiding Principles of Flag Design advise on those elements that tend to work well or do not. But remember that you can almost always find a successful rule-breaker. Obvious examples are the flag of South Africa and the Pride Flag, both of which use multiple colours to great effect. 
So enjoy your designing and do what you feel works best for your flag.
Franklin K. Lane, US Secretary of the Interior 1913-20, sums it up perfectly. 'For you are the makers of the Flag, and it is well that you glory in the making.'