Who We Are
The Flag Institute is a members' association and UK-registered charity devoted to the study and promotion of flags and flag flying (vexillology).
Founded in 1971, we are an independent organisation – international, inclusive and informed:
run by members and funded wholly by member subscriptions
worldwide interests
worldwide membership


novices and experts, vexillologists and vexillographers, flag geeks and flag nerds
individual, group and trade

a centre of excellence and a knowledge hub
What We Do
The purpose of the Flag Institute is to advance public knowledge, understanding and use of flags.
We do this – in person, in print and online – through our magazine, events, library and publications:
documenting, celebrating and promoting flags in all their diversity
sharing knowledge, opinion and ideas
supporting the design and adoption of new flags
But that's not all …
We also serve as the authority on flags and flag flying:
enquiry line – for individuals, organisations, trade and media
expert comment on current and breaking news
adviser to the UK Parliament, national and local government, diplomatic services, military units and more
home of the definitive UK Flag Registry
free online guidance – flag design, UK flag protocol, Union Flag or Union Jack and more
Join Us
Joining
is easy, great value and membership starts from just £21:
Individual: print or online
Group: schools, libraries, colleges, museums, central or local government etc
Trade: flagmakers, publishers, other commercial organisations
For more information, including 2020/2021 subscription rates, please click here.
Flying Our Flag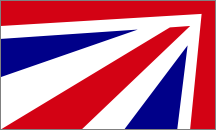 The flag of the Flag Institute is a stylised representation of a quarter of the Union Flag, creating a dynamic image of vexillology moving forward.
Designers: Graham Bartram (Chief Vexillologist) and Philip Tibbetts (Communities Vexillologist)