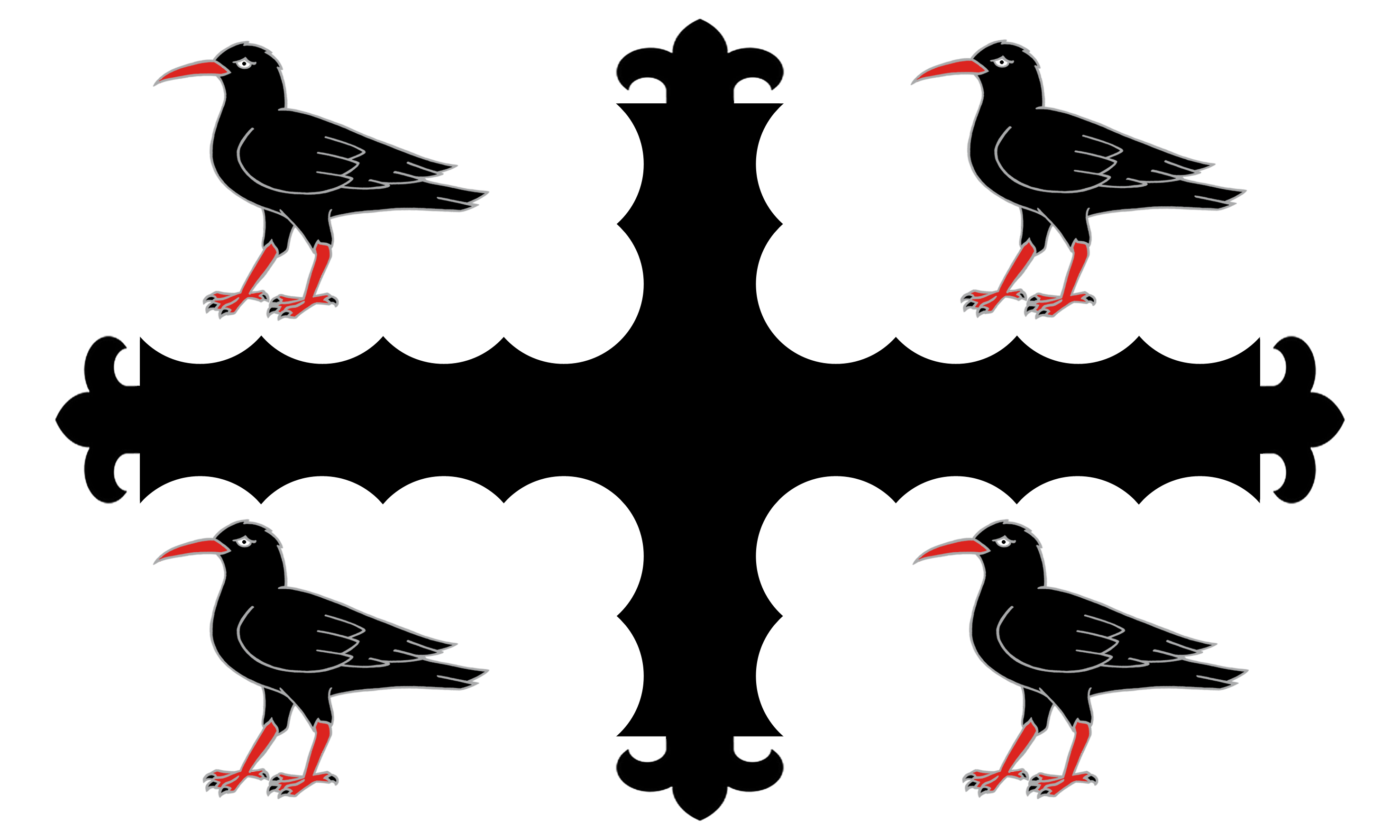 Flag Type:
County Flag
Flag Date:
C14th
Flag Designer:
Traditional
Adoption Route:
Traditional
UK Design Code:
UNKG7450
Aspect Ratio:
3:5
Pantone® Colours:
White, Black, Red 485, Grey 422
Certification:
Flag Institute Chief Vexillologist, Graham Bartram
Notes:

The Flintshire Flag is a community flag proclaiming the unique identity of this historic Welsh county.

The design features four choughs in each quarter of a black engrailed flory cross on white. The ancient arms of which this design is a banner are those which were posthumously assigned to Edwin Tegeingl (Edwin ap Gronwy), the C11th Lord or King of Tegeingl, a Welsh cantref and sometime kingdom, which later formed the core of the county of Flintshire.

The arms became used over time as the emblem of the county, including being adopted as a seal by the county council (before being formally granted an amended form officially) and subsequently utilised as an emblem by many Flintshire-representative societies.

Support for the flag registration came from: Bagillt Heritage Society / Cymdeithas Treftadaeth Bagillt, Buckley Society, Caerwys Historical Society, Cambria Band, Carmel Women's Institute, Cymdeithas Thomas Pennant, Delyn Heritage Group, Five Villages Chronicle Association, Flintshire Falcons Rugby League, Flintshire Federation of Tenants and Residents Associations, Flintshire Historical Society / Cymdeithas Hanes Sir y Fflint, Flintshire Tourism Association / Cymdeithas Ymwelwyr Sir y Fflint, Flintshire War Memorials Group, Gladstone's Library, Hawarden, Holywell & District Society, Love my Wales / Caru fy Nghymru, Llanasa Brownies, Rainbows and Rangers, Meliden Historical Society, Menter Iaith Sir y Fflint, Mold Food and Drink Festival / Gŵyl Bwyd a Diod yr Wyddgrug, Mostyn History Preservation Society, 3rd Prestatyn Scout Group, Rotary Club of Flint and Holywell, Saltney Ferry (Mold Junction) Tenants and Residents Association, St. Asaph Archaeological Society

Further support came from Flintshire representatives: Rt Hon. David Hanson MP, Mark Tami MP, Mark Isherwood AM, Rt Hon. Lord Barry Jones PC, Cllr Chris Dolphin, Cllr Joe Johnson.