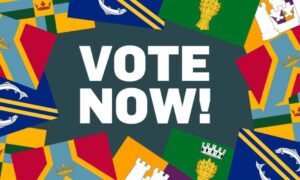 Vote for the Aberdeenshire flag! It's time for the county to pick its new official symbol.
Launched in September, the competition organised by The Press and Journal was a record-breaker.
Around 820 entries arrived by email or by post, making it the UK's largest-ever flag design contest.
They came from schools across northeast Scotland, as well as individual designers around the world.
'Aberdeenshire has taken the crown by a fairly significant margin,' said the FI's Philip Tibbetts, March Pursuivant and Honorary Vexillologist to the Lyon Court.
'Not just by one or two, by 100 or more.
'It's amazing that this has captured the imagination of so many people, and especially so many pupils across the county.'
The P&J's judging panel – including Provost Judy Whyte, Deputy Lieutenant Miranda McHardy and Joseph Morrow, Lord Lyon King of Arms – eventually found a shortlist.
Philip adapted them to fit the strict rules of heraldry and now they are ready to go to a vote.
Check out the P&J website, read more about each design, then vote for your favourite.

You have until New Year's Day to decide, and the winner will be revealed later in January.