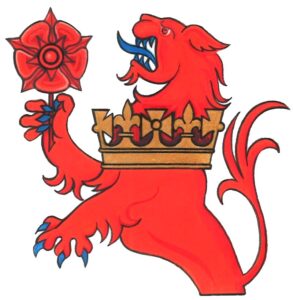 Congratulations to our Communities Vexillologist Philip Tibbetts on his appointment as an Officer of Arms in Scotland's Lyon Court.
On 1 September Philip became March Pursuivant Extraordinary, having served as Honorary Vexillologist to the court since 2018.
His new title dates back to 1515 and pertains to the Marches, i.e the modern Dumfries and Galloway and Scottish Borders.
Philip lives in the region and is the first holder of the office for 100 years.
By profession a strategy manager in the aerospace industry, Philip has also developed a parallel career in community vexillology.
In this role he works with groups throughout the UK to develop flags as instruments of local identity and social cohesion.
'Working with communities across the country has always made me incredibly proud and I am now immensely honoured to have been appointed as an Officer of Arms,' said Philip. 'Especially so to have helped resurrect the long vacant office associated with the South of Scotland. In addition to my existing and new duties I hope to represent the South of Scotland with pride and will help any person, community or body here if I can.'
Dr Joseph Morrow CBE, Lord Lyon, was equally pleased.
'I was delighted to commission Philip Tibbetts as March Pursuivant Extraordinary,' he commented. 'Philip brings a number of skills to the position of the Officer at Arms within the Court of the Lord Lyon. The post of Officer at Arms is soaked in the history of Scotland and the revival of the use of the title March Pursuivant after nearly 100 years is another significant milestone in that history.'
Court of the Lord Lyon –  Lyon Court Vexillologist – Dumfries and Galloway What's Going On?