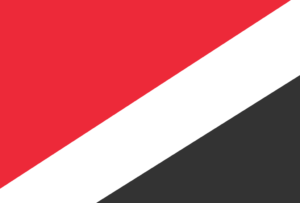 The Principality of Sealand is perhaps the world's most famous micronation. It was founded by the late Prince Paddy Roy Bates on 2nd September 1967.
Located approximately 7.5 miles (12Km) off the Suffolk coast, the former HM Fort Roughs has been the subject of an invasion, a song, a music video and even a Japanese manga/anime series. But today, Sealand's 48th birthday, its flag is our subject.
Sealand's flag is similar to the national flags of Congo, DR Congo, Namibia, St. Kitts & Nevis, Solomon Islands and Tanzania – they each have a band from the bottom left to the top right, splitting the flag into three distinct segments. However, Sealand's flag pre-dates all but Congo's and Tanzania's.
Prince Michael, Prince Roy's son and Sealand's second head of state, gives us an insight into the flag's design and what it represents.
"We designed the flag in the summer of 1967, and it was raised for the first time on 2nd September 1967. It was designed by my mother [Joan] and father with a little input from me (I was 14 at the time) and my 16-year-old sister Penny.
"My father would describe it as red for Roy, black for his days in pirate radio (Radio Essex), with a white line denoting the path of virtue and purity we walk today…I am sure the latter was a little tongue in cheek."
While Sealand's flag has yet to be flown at the United Nations or Olympic Games, it has been displayed at the summit of Mt. Everest by English mountaineer Kenton Cool in 2013.
"We are immensely proud of Kenton Cool carrying it [the flag] to the top of Everest. My father would have considered him a 'proper bloke'. There are many countries that have never achieved that." says Prince Michael.
Alex Crouch is a 2014 journalism graduate from Southampton Solent University. He has followed Formula One since before he started infant school, was a Games Maker during the London Paralympics and saw Pink Floyd reunite for one song at The O2 in London. Links: Twitter, blog, YouTube. Alex is an accredited Flag Institute journalist.