From over 10,000 just 40 remain. Is one of these designs New Zealand's new flag?
BY ALEX CROUCH
New Zealand took a step closer to potentially changing their national flag yesterday (10th August) after the Flag Consideration Panel released its first shortlist of 40 designs from 10,292 submissions.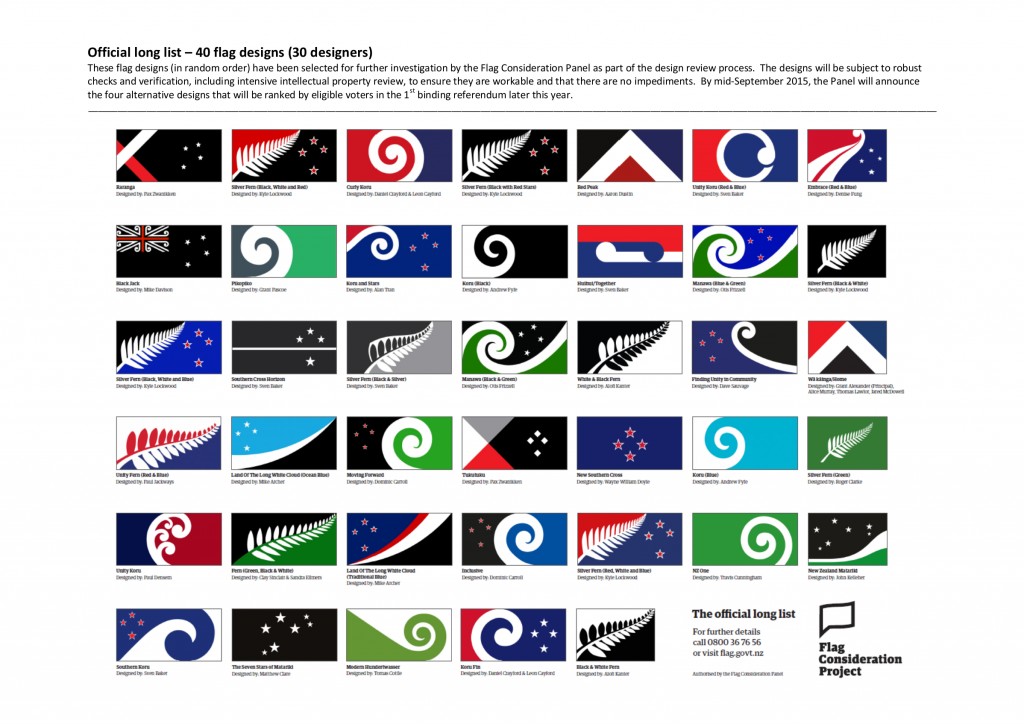 In a press release the panel's chair, Professor John Borrows, said: "everyone on the panel viewed every single one of the 10,292 designs. We would like to thank everyone for their design suggestions and we've been impressed with the very high standard."
These forty designs will now be subjected to 'robust checks and verification' before being whittled down to a final four by the middle of next month.
The final four will advance to the first New Zealand flag referendum (20th November-11th December), and the winner of that will face the current national flag in the second referendum next spring (3rd-24th March 2016). In the highly unlikely event of a tie in the second referendum, the status quo will remain.
If victorious, the new flag would become the official national flag of New Zealand six months to the day after the second referendum. This being the case, the current flag will still be flown at next year's Olympic and Paralympic Games, but, support for the current flag appears to be increasing. A poll conducted by the New Zealand Herald back in April saw 70 per cent of the 750 people questioned favoured the present flag.
Full Professor Borrows statement:
"We would like to thank everyone for their design suggestions and we've been impressed with the very high standard. The Panel made a unanimous decision and selected flag designs we believe best reflect New Zealand's identity, as shared with us in the values and themes that New Zealanders expressed throughout this process.
"In reviewing alternatives, we were guided that a potential new flag should unmistakably be from New Zealand and celebrate us as a progressive, inclusive nation that is connected to its environment, and has a sense of its past and vision for its future.
"The Panel has made its preliminary selection of flag designs that it believes best represent the range of suggestions it has received. It is important that those designs are timeless, can work in a variety of contexts, are simple, uncluttered, balanced and have good contrast."
For our earlier article on the New Zealand Flag Debate, please click here.
Alex Crouch is a 2014 journalism graduate from Southampton Solent University. He has followed Formula One since before he started infant school, was a Games Maker during the London Paralympics and saw Pink Floyd reunite for one song at The O2 in London. Links: Twitter, blog, YouTube. Alex is an accredited Flag Institute journalist.