South Sudan, the 193rd and most recent edition to the United Nations, adopted its flag 10 years ago today (9th July). Today also marks the fourth anniversary of their independence from the Republic of Sudan.
The flag itself is the same one used by the Sudan People's Liberation Movement, and similar to that of Sudan's and neighbouring Kenya's in construction and colour.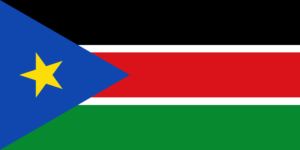 Pan-African colours (black, red, and green from top to bottom) represent the people, martyr's blood and South Sudan's agricultural resources respectively. The white, as usual, symbolises peace after many years of war. The blue chevron represents the White Nile, which runs all the way through the young nation. The angled yellow star represents the 10 states that make up the country.
Bonus Facts: South Sudan and South Africa are the only nations whose flags feature six colours in their primary design.
Alex Crouch is a 2014 journalism graduate from Southampton Solent University. He has followed Formula One since before he started infant school, was a Games Maker during the London Paralympics and saw Pink Floyd reunite for one song at The O2 in London. Links: Twitter, blog, YouTube. Alex is an accredited Flag Institute journalist.