The Korean peninsula hasn't had a unified native government since 1910 when Japan annexed Korea. After Japan's defeat in 1945 the peninsula was divided along the 38th Parallel (North), the Soviets controlling the North, the United States the South.
We're all aware of how vastly different North and South Korea are, but reunification is a goal for both. Should that day ever come, they'll need a flag.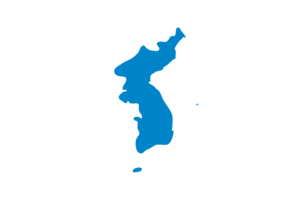 Korea's Unification Flag is similar to Cyprus', in that it features a silhouette of the landmass, only here the shading is blue rather than copper-orange.
The flag was first used in 1991 when a unified Korean team entered that year's World Table Tennis Championship and F.I.F.A. World Youth (Under-20) Championship. Despite competing as separate nations in the Sydney and Athens Summer Olympics (2000 & 2004), Turin Winter Olympics (2006) and 2006 Asian Games in Doha, both Koreas marched together under the Unification Flag during the opening ceremonies.
Away from sport the flag was displayed prominently on the border when, in 2007, South Korean President Roh Moo-hyun visited the North. Citizens and officials from North Korea waved the Unification Flag in 2010 and 2012 as, respectively, Rev. Han Sang-ryol and Ro Su Hui (vice-chairman of the Reunification of the Fatherland Union) returned to the South across the Korean Demilitarized Zone. Both were arrested upon their return for their unauthorized visits.
Rev. Han Sang-ryol can be seen with the Unification Flag in this video:
Bonus Fact: Jeju-do Province, the island southwest of South Korea, was part of the original design, but Ulleung-do (an island east of South Korea) was only added in 2006.
Alex Crouch is a 2014 journalism graduate from Southampton Solent University. He has followed Formula One since before he started infant school, was a Games Maker during the London Paralympics and saw Pink Floyd reunite for one song at The O2 in London. Links: Twitter, blog, YouTube. Alex is an accredited Flag Institute journalist.