The flag of Germany's capital city was officially adopted in May 1954 as the flag of the free city of West Berlin.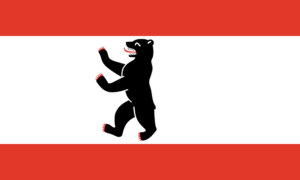 Since the unification of Germany in 1990 the Landesflagge (state flag) has become the flag of the whole city.
Designed by vexillologist Ottfried Neubecker, the 3:5-proportioned red-white-red horizontal tricolour with the city's emblem in the center, finished second in a 1952 contest, but the winner was rejected by the Senate of Berlin.
The bear emblem is a pun on the city's name. 'Little bear' in German is Bärlein, which sounds like Berlin. It is unknown why Berliners chose a bear for their own coat of arms in place of an eagle, but they may have taken inspiration from Albert the Bear (Albert I), the first Margrave of Brandenburg (c.1100-1170). The position Margrave of Brandenburg eventually became Emperor of Germany.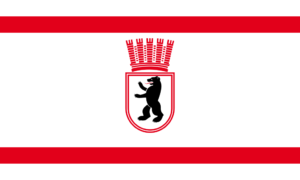 Bonus Fact: East Berlin's flag featured two additional white stripes at the top and bottom, as well as a crowned escutcheon around the bear.
Alex Crouch is a 2014 journalism graduate from Southampton Solent University. He has followed Formula One since before he started infant school, was a Games Maker during the London Paralympics and saw Pink Floyd reunite for one song at The O2 in London. Links: Twitter, blog, YouTube. Alex is an accredited Flag Institute journalist.