BY ALEX CROUCH
Today (27th April) marks the silver jubilee of Moldova's flag.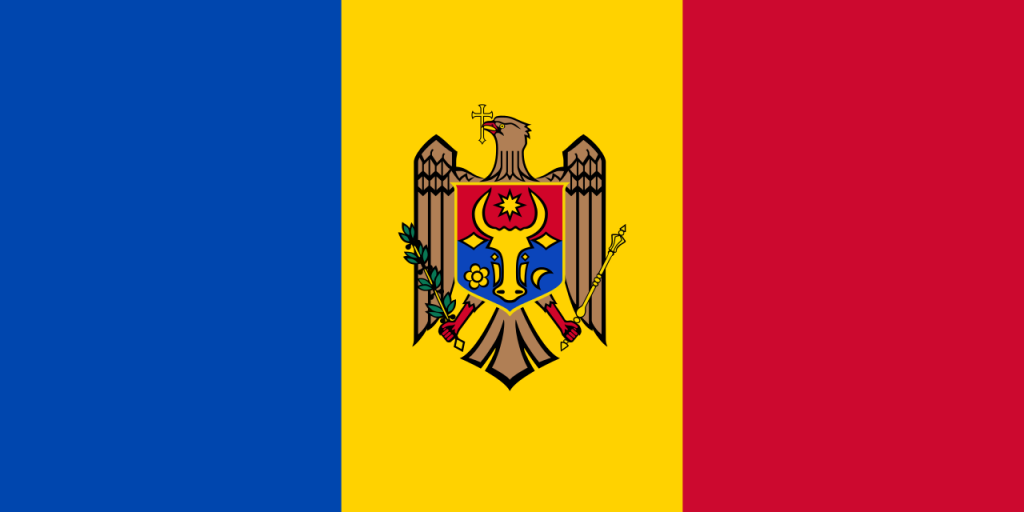 The flag itself, a blue, yellow and red tricolour, is almost identical to neighbouring Romania's, reflecting their cultural and national affinity. What distinguishes the two is Moldova's coat of arms (a dark golden eagle with an Orthodox Christian cross in its beak and a sceptre and olive branch in its claws) sits in the middle. The red and blue shield in the eagle's chest contains traditional Moldovan symbols: an aurochs' head, a rose, a crescent and a star. Two other national flags share a strong resemblance to Moldova's, those of Chad and Andorra.
In a 2003 interview Moldovan heraldist and vexillologist Silviu Andrieş-Tabac said: "[In 1990, when the flag was being created] it was taken into account that many countries have similar tricolour flags. As a result, it was decided to abandon the ultramarine blue, which is present on the Romanian flag, in favour of the emerald-blue, used on the mural paintings of Voroneţ monastery."
Seven years later (2010) the flag's exact colours were officially certified as: 'Berlin Blue', 'Chrome Yellow' and 'Vermillion Red'. This was a special year for the flag for two other reasons: Flag Day (also 27th April) was first celebrated, but most importantly, after 20 years of being one of the few flags in the world whose obverse and reverse differed, the country's coat of arms was added to the reverse.
Bonus Facts: Currently the flag of Paraguay is the only nation whose flag's obverse and reverse differ. Moldova adopted its flag whilst still a member of the Soviet Union.
Alex Crouch is a 2014 journalism graduate from Southampton Solent University. He has followed Formula One since before he started infant school, was a Games Maker during the London Paralympics and saw Pink Floyd reunite for one song at The O2 in London. Links: Twitter, blog, YouTube. Alex is an accredited Flag Institute journalist.