As Scotland's vote on independence fast approaches officers of the Flag Institute are being kept very busy answering press enquiries from around the World. Our role as the UK's national flag charity is to inform any public debate about flags, so we do our best to answer all such enquiries.
Here is the result of one such interview, conducted in this case for the Mail on Sunday:
"Hi Charles, thanks for a fascinating interview earlier today. Below I've pasted some of the flag designs we discussed. I have taken the liberty of inserting the 'green option Union Jack' (Number 2 below) because I think your comments surrounding Welsh representation and the possible unifying symbolism for Northern Ireland are particularly interesting. Hope that's ok.
I've said to the newsdesk you're not ranking these flags in any particular order – you're basically offering general thoughts on possible designs.
As well as a piece on flag options I'm also doing up a straight news story on the general uncertainty and confusion surrounding contingency plans for the Union Jack. I plan to quote you and the Flag Institute in that as well and will drop you an email with the nuts of it.
The news story will include a few brief pars on how the Union Jack actually came to be. Would you mind casting an eye over to ensure I've got that history right?
Many thanks for your help in all this – it is much appreciated. The newsdesk is aware that you're available to do a piece in the event of a 'yes' vote.
Number 1: 'This is the safe option – essentially the current Union Jack with the blue of Scotland's saltire replaced by black from Wales' flag of St.David,' says Mr Ashburner. 'The advantage is that it's still recognisable. But perhaps what is needed is a completely clean break. A new flag for the remaining United Kingdom with the old Union Jack becoming a symbol of British-ness for those who still wish to celebrate that.'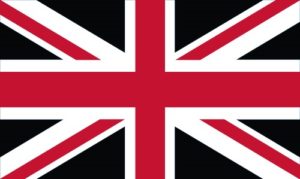 Number 2 – Again, based on the current design but this replaces blue with green to give the Welsh representation on the UK flag for the first time. 'This would be popular in Wales, although a darker green would be more appropriate,' says Mr Ashburner. 'Green, when added to the still very clear Union Flag design, could perhaps also be a way of representing both loyalist and nationalist elements in Northern Ireland which might be inclusive and unifying. However I suspect this much green would be just too Welsh for the English.'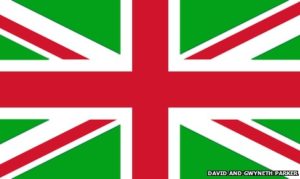 Number 3: Red is always a good background colour for a flag and the Wyvern – it's not a dragon – is a genuine Anglo-Saxon flag motif. 'The problem is that we're not all of Anglo-Saxon descent,' says Mr Ashburner. 'This design doesn't have all the answers but it does break away completely from the Union Jack. It would be exciting to find something that spoke to all three remaining countries. Perhaps some kind of central garland featuring plant symbols of England, Wales and Northern Ireland – the rose, daffodil and shamrock.'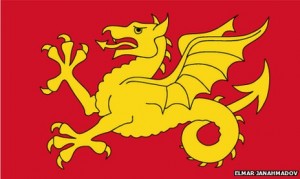 Number 4: 'This one is clearly tongue-in-cheek, the road, the rain, the suggestion that we're subservient to the United States,' says Mr Ashburner. 'But I think the basic design would have merits if it incorporated national symbols. For one thing the road layout reflects the ancient Celtic cross, which pre-dates the Christian cross. People forget that the current Union Jack is essentially made up of Christian crosses even though many people in these islands are no longer Christian.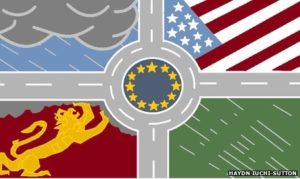 Number 5: 'I'm probably going to regret suggesting this as a basis for any new flag,' says Mr Ashburner. 'I would certainly get rid of the Commonwealth motifs at the top and it would have to look much less American. Elements of the old Union Jack in the centre might also have to go. But I do like the idea of stars or symbols representing different regions of the country. That would also allow adaptability in the future if further regional devolution were to take place.'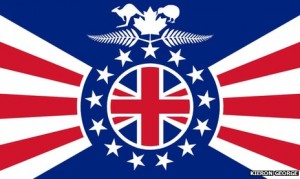 The resulting (much reduced) article can be seen online here