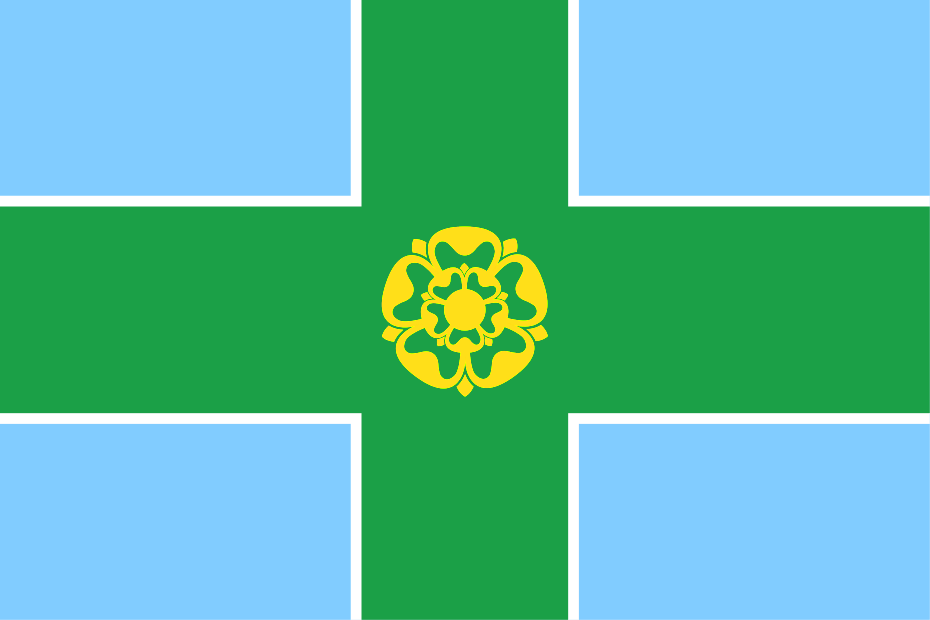 Flag Type:
County Flag
Flag Date:
16th September 2008
Flag Designer:
Martin Enright
Adoption Route:
Popular Vote
UK Design Code:
UNKG7406
Aspect Ratio:
3:5
Pantone® Colours:
Blue 542, White, Green 357, Gold 123
Certification:
Flag Institute Chief Vexillologist, Graham Bartram
Notes:

The Derbyshire Flag is a community flag proclaiming the unique identity of this historic English county.

Blue is one of the traditional colours of Derbyshire and represents its many rivers and reservoirs. The green cross reflects the lushness of the county and marks its position at the centre of England. The rose is in gold to symbolise the quality of Derbyshire people and to avoid confusion with Lancashire and Yorkshire. The same rose also appears on the badge of Derbyshire County Cricket Club.

BBC Derby organised a poll to select the Derbyshire Flag. It flew for the first time on Friday 22 September 2008 in ceremonies at Derby Cathedral, the Buxton Campus of the University of Derby, Ashbourne Town Hall and Ripley Town Hall.