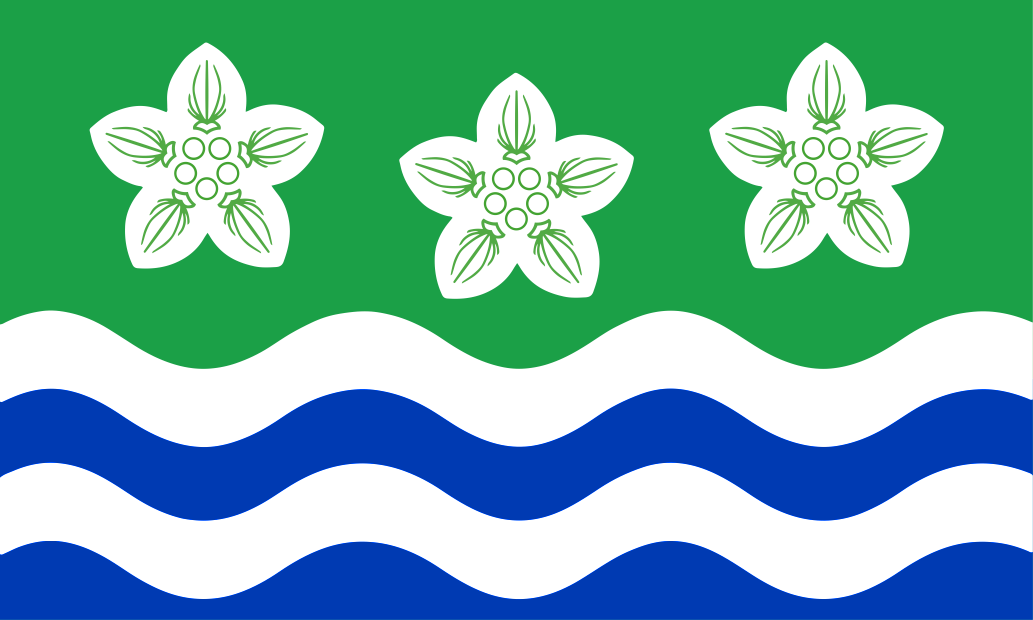 Flag Type:
County Flag
Flag Date:
19th September 1950
Flag Designer:
College of Arms
Adoption Route:
Traditional
UK Design Code:
UNKG7428
Aspect Ratio:
3:5
Pantone® Colours:
Green 354, Blue 300, White
Certification:
Flag Institute Chief Vexillologist, Graham Bartram
Notes:

The Cumberland Flag is a community flag proclaiming the unique identity of this historic English county.

The design of the Cumberland Flag reworks the banner of arms of the former Cumberland County Council, granted in 1950. The blue and white wavy lines represent the county's coast, mountains, fells and lakes. Meanwhile the green upper half strewn with grass-of-Parnassus flowers recalls its marshy uplands and fertile plains.

The grass-of-Parnassus as displayed on the arms are generic in style. But as redrawn here they are both botanically recognisable and stylistically appropriate. Using an image of a real Cumbric flower, vexillographer Philip Tibbetts has achieved a realisation that is as iconic as the heraldic rose.

The colours are the best vexillological match to those of the former council arms, while the green also matches that of the Welsh flag. This provides an extra element of symbolism as the name Cumberland derives from Cymru-land (land of the Welsh).

A number of regional bodies supported this registration. They includes Bridekirk Parish Council, Cockermouth and District Civic Trust, Cumberland Agricultural Society, Cumberland Football Association, Cumberland Geological Society, Cumberland & Westmorland Antiquarian Society, Cumbria County History Trust, Federation of Cumbrian Amenity Societies, Holme Low Parish Council, Lakeland Dialect Society, Muncaster Parish Council, Penrith Civic Society, Workington and District Civic Trust, and Workington Twinning Association.