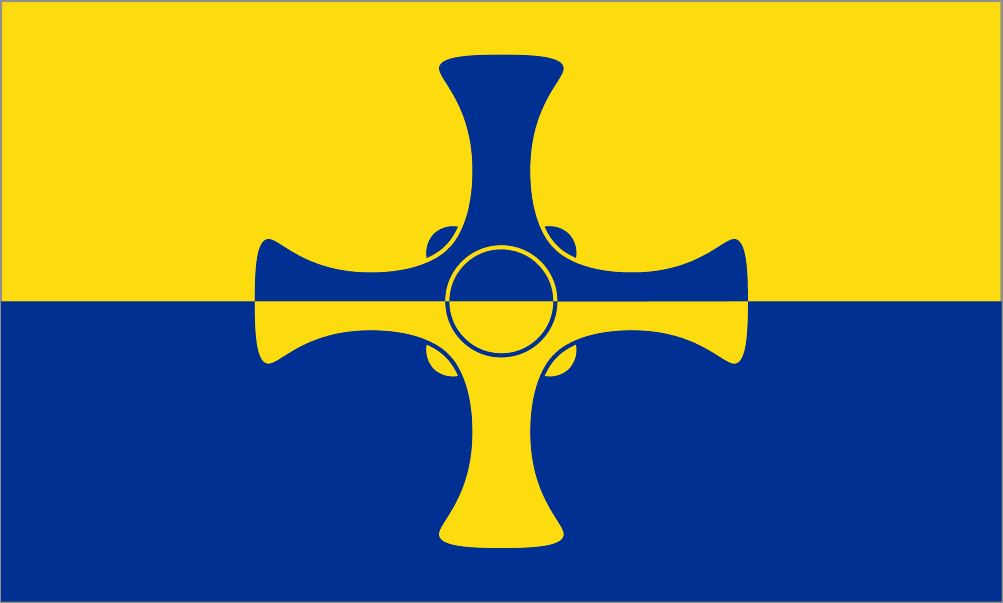 Flag Type:
County Flag
Flag Date:
21st November 2013
Flag Designer:
James, Katie and Holly Moffatt
Adoption Route:
Public Vote
UK Design Code:
UNKG7439
Aspect Ratio:
3:5
Pantone® Colours:
Blue 286, Yellow 109
Certification:
Flag Institute Chief Vexillologist, Graham Bartram
Notes:

The County Durham Flag is a community flag proclaiming the unique identity of this historic English county.

The flag is based on the St Cuthbert's cross, with the whole design counter-changed horizontally between the County Durham colours of blue and yellow.

The flag was chosen by a public vote, following a competition to design a flag for County Durham. Six designs were selected from numerous entries, by a panel of judges, for everyone to vote for their favourite design.

The flag was unfurled at Durham Cathedral. The unfurling was attended by Susan Snowden, the Lord-Lieutenant of County Durham, Councillor Pauline Charlton the Chairman of Durham County Council, the Mayor of Darlington and the Very Reverend Michael Sadgrove, Dean of Durham Cathedral. The flag was blessed by the Dean. After the unfurling the flag was hoisted from the top of the Cathedral by Katie and Holly Moffatt.