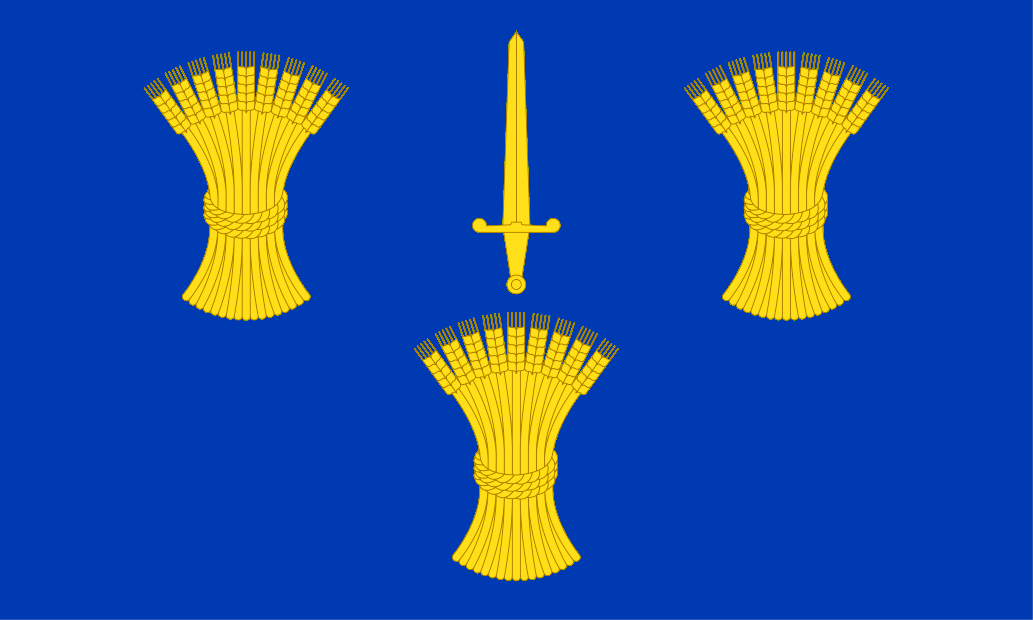 Flag Type:
County Flag
Flag Date:
3rd May 1938
Flag Designer:
College of Arms
Adoption Route:
Regional Organisation
UK Design Code:
UNKG7427
Aspect Ratio:
3:5
Pantone® Colours:
Blue 286, Yellow 109, Yellow 112
Certification:
Flag Institute Chief Vexillologist, Graham Bartram
Notes:

The Cheshire Flag is a community flag proclaiming the unique identity of this historic English county.

The Cheshire Flag features three golden wheatsheaves and a golden sword on blue.

This is the banner of arms granted in 1938 to the former Cheshire County Council.

The golden wheatsheaves on blue are a symbol linked since the late twelfth century to the earldom of Chester.

They also form part of the civic arms of the city of Chester, granted in 1560.

The device of three golden wheatsheaves and a golden sword formed the hallmark of Chester Assay Office (1779-1962). It also appears on the bridge over Eastgate, Chester (built 1768/9).

The sword is a reference to Cheshire's status as a county palatine.

A number of bodies representing the county fly a flag making use of this design. Among them is Cheshire Fire and Rescue Service, whose flag was designed in the 1970s by Dr William Crampton, founder of the Flag Institute.

Graham Bartram, Chief Vexillologist of the Flag Institute, designed the present realisation.

A number of regional bodies supported this registration: Cheshire County Athletic Association, Cheshire County Badminton Association, Cheshire County Bowling Association, Cheshire County Cricket Club, Cheshire County Football Association, Cheshire County Water Polo and Swimming Association, Cheshire Local History Association, Cheshire Schools FA, Hoylake, West Kirby and District Civic Society, Marple Civic Society, North-West Association of Civic Trusts and Societies and Stockport County FC.