Flagmaster is the authoritative, full-colour journal of the Flag Institute – published exclusively for members, in print and PDF, since 1971.
In its exciting new 48-page format, Flagmaster features updates and information on flags old and new, plus longer articles on a wide range of vexillological topics.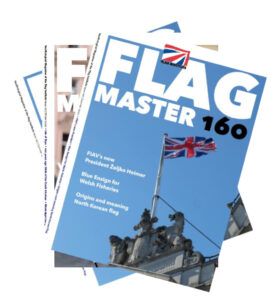 This is how members reacted on social media:
… love the new look! … Excellent job! (Hannah Patton)
… fantastic … very professional publication with superb articles and stunning visuals….a great read (Paul Lynch)
Excellent work, always pleased to receive my Flagmaster and new design looks great (Robert Saffrey)
Excellent new format, articles are first rate and absorbing, well done Flag Institute (Ian Byrnes)
Excuse me while I absolutely nerd out on my first awesome delivery … (Chris McHugh)
Do you have an article to contribute? If so editor Jos Poels would love to hear from you.
Please contact Jos or any member of the editorial board:
– Flag Institute, Editor-in-Chief; professional vexillologist
Alex Cachinero Gorman – Flag Institute; journalist and blogger
James Floyd – Flag Institute; editor, Tak Tent (Scottish Heraldry Society)
Malcolm Good – Flag Institute
Bernard Muscat – Flag Institute, Social Media Editor
– Flag Institute, Librarian
– Flag Institute, Convenor
Flagmaster Archive
Past issues of Flagmaster (Issue 117 to date) are available exclusively to members as PDF downloads in the Members' Area here.
Not a member? Why not join the Flag Institute now.