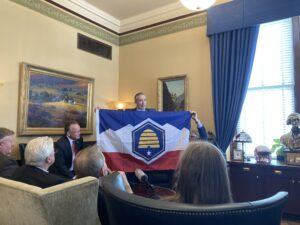 The US state of Utah has a new state flag – but only by five votes.
The flag bill now awaits the signature of the state governor before it becomes law.
As reported in Flagmaster 165, the new flag features a prominent gold hexagon containing a beehive and a five-pointed Utah star.
The hexagon represents the strength of Utah's people.
The beehive symbolises industry, community and the year 1847 (when pioneers first settled Utah).
The Utah star symbolises hope and the year 1896 when Utah first achieved statehood.
The upper field of blue represents Utah's skies and symbolises faith.
A central field of white create the outline of five mountain peaks, representing Utah's snowy mountains and the state's indigenous tribes.
Finally, the lower red field represents the famed red rock canyons of southern Utah.
The previous flag becomes the 'historic flag'.
This can still fly legally alongside the new one on state holidays, during the legislative session and 'upon any occasion deemed fitting and appropriate'.
However, the bill does not define these 'occasions'.
It also gives three slightly different versions of the 'historic flag', all of them deemed acceptable.
View the flag bill at https://le.utah.gov/~2023/bills/sbillint/SB0031S04.pdf
And learn more from Erik Nystul (Utah State Flag Task Force) at our Spring Conference 2023, Victory Services Club, London, 29 April.