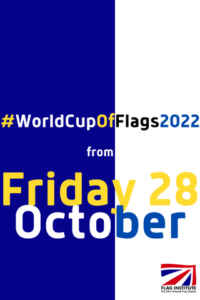 The second edition of the Flag Institute's World Cup of Flags launches Friday 28 October on Twitter.
Using the same groups drawn by FIFA in April, Twitter users will be able to vote for their favourite flags from those representing countries competing in the men's football World Cup 2022 in Qatar.
People will be able to vote on the Flag Institute's Twitter account: https://twitter.com/FlagInstitute
In the group stages, the top two flags from each group go through to the next round – the same as what happens in the football World Cup.
Until on Sunday 20 November two flags will remain to battle it out for #WorldCupOfFlags2022.
In 2018 when Panama won the inaugural edition of World Cup of Flags, the win was reported by Panamanian tv channels (here and here), and journalists interviewed Panamanian historians, as well as people on the streets of Panama as they celebrated the win.
Panama didn't qualify for this year's football World Cup, so the World Cup of Flags 2022 will see a new winner.
Host of #WorldCupOfFlags2022 Bernard Muscat said:
'In 2018 I thought it would be a few dozen people taking part, and we accidentally went viral in Panama when they won. Twitter users were tagging footballers and ambassadors asking them to vote, and they were asking us to extend the times the Twitter polls were live because they were voting from the other side of the world, where it would be night time. Polls will be open for 9 hours each this time, giving everyone plenty of time to vote.'
Flag Institute Communities Vexillologist Philip Tibbetts said:
'World Cups bring together different national communities in a spirit of shared sportsmanship. Our Twitter polls mirror that and help to celebrate the colours that do so much to frame these events. It makes it even more worthwhile when we can help to support the HALO Trust with their work clearing mines in Ukraine.'

As part of #WorldCupOfFlags2022, Twitter users can tip the Flag Institute, which doesn't otherwise advertise or fundraise, using their ko-fi page: https://ko-fi.com/flaginstitute.
Half of the money raised will go to The HALO Trust, a charity that works on clearing mines and restoring land for farming. They have been especially busy since the invasion of Ukraine.
Start date of #WorldCupOfFlags2022: Friday 28 October, 8am
Winner decided: Sunday 20 November
More info in this thread: https://twitter.com/FlagInstitute/status/1585162257541267456