Tuesday 11 May 2021 saw the first flying of a new flag for the House of Commons.
Graham Bartram, Chief Vexillologist of the Flag Institute, designed it at the request of the Speaker, Sir Lindsay Hoyle.
The flag consists of a gold parliamentary portcullis and coronet on a field of House of Commons green.
The emblem is set slightly towards the hoist so it appears centrally when the flag is flying.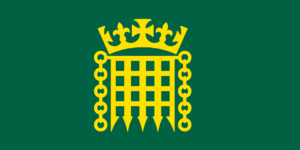 The House of Commons Flag
The flag will fly from one of the three new flagpoles recently installed in New Palace Yard.
These allow the House of Commons to fly flags to welcome visitors and mark special occasions.
Sir Lindsay said:
'I want people to feel the warmth of our hospitality from the moment they pass through Carriage Gates and into New Palace Yard.
So flying the House of Commons Flag, next to the Union Flag and other flags marking significant national events or Commonwealth national days, sends that important message of welcome.'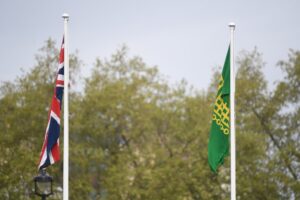 The House of Commons Flag Flies in New Palace Yard
The flags will fly from left to right in precedence order: Union Flag, House of Commons Flag, Union Flag (repeating the start of the sequence).
When flying another national flag the order will be as follows: Union Flag, national flag, House of Commons Flag.