On Tuesday 26th January the flag of Caithness was unveiled in a ceremony in Wick that featured a piped procession through the county town. The Lord Lyon and the Communities Vexillologist were both in attendance and gave speeches to all those in attendance.
Caithness is the first community on mainland Scotland to have gained their own flag and the first anywhere in Scotland to have achieved this through a public competition. This competition was run in partnership between the Highland Council, the Lyon Court and the Flag Institute.
The winning design features a nordic cross which symbolises the ancient ties of the county to the Vikings. The black recalls the county's geology with the famous Caithness flagstone and flow country, whilst the gold and blue refer to the beaches and sea to reinforce the maritime nature of the county and its heritage. In the first quarter is charged a golden galley, which is the traditional emblem of Caithness, including a raven upon its sail as it appears in the county's civic arms.
Details on the flag can now be viewed in the Flag Institute's registry entry here: http://www.flaginstitute.org/wp/flags/caithness/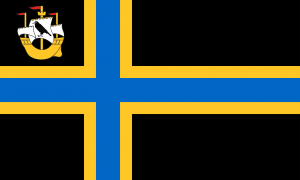 Many congratulations to the lucky designers who won the competition – Andrea Merchant and Niall Smith