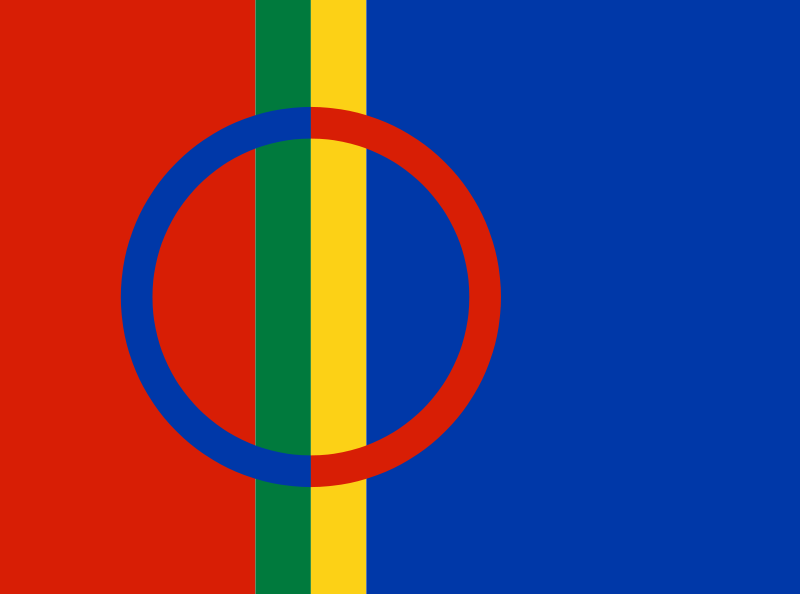 Sápmi (commonly known as Lapland) is mostly located within the Arctic Circle, stretching through the north of Norway, Sweden, Finland and Russia's Kola Peninsula.
The Sami people (or Lapps) adopted their current flag on 15th August 1986 at the 13th Nordic Sami Conference in Åre, Sweden. Designed by Astrid Båhl, it saw off competition from over 70 other designs in a competition, before eventually being favoured to the unofficial – more minimalist – Synnøve Persen design from 1977.
Both Båhl's and Persen's designs feature red, yellow and blue. These three colours are commonly used on Gákti, a traditional Sami garment used in ceremonial contexts and for working, reindeer herding in particular. South Sápmi Gákti feature green too, hence the colour's inclusion in Båhl's flag.
The blue and red circle in the Båhl flag represents the Moon and the Sun respectively. The Sami are referred to as 'offspring of the sons of the Sun' in their national anthem.
Sami National Day is 6th February. In 2003 Norway granted official status upon the Sami flag, meaning all the country's municipalities must fly the flag on that date.
Bonus Fact: Persen's flag was introduced as part of the protest movement against the Alta Hydroelectric Power Station. It was opened in 1987.
Alex Crouch is a 2014 journalism graduate from Southampton Solent University. He has followed Formula One since before he started infant school, was a Games Maker during the London Paralympics and saw Pink Floyd reunite for one song at The O2 in London. Links: Twitter, blog, YouTube. Alex is an accredited Flag Institute journalist.