The St George's Cross, a red cross on a white background, is recognised around the globe as the flag of England.

King Richard I of England (Richard the Lionheart) is believed to have adopted St. George's Cross as his flag during his crusades. Red crosses were also used by English soldiers throughout the Middle Ages, but it wasn't until the English Reformation's revised prayer book of 1552, that all religious flags and other saint's banners, except for St. George's, were abolished. St. George's flag had first been used as a maritime flag seven years earlier.
But it's not just a country famed for inventing sports (that the rest of the world then shows it how to play) that flies the warrior saint's flag.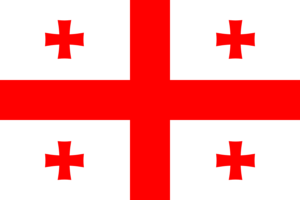 Georgia has used its 'Five Cross Flag' design since January 2004. St. George's Cross with four small red Bolnisi Crosses (the nation's national symbol) in each white segment. This flag was used by the United National Movement during the Rose Revolution in Georgia the previous November.
The national flag from 1918-1921 and 1991-2004 was wine-red (the good times) with a black and white section in the top left (Soviet rule and hopes for peace respectively).
Sardinia's flag (below) is similar to Georgia's, but instead of a cross in each quarter there's a bandaged Moors' head facing away from the mast. Prior to 1999 the heads were facing the mast and they were blindfolded.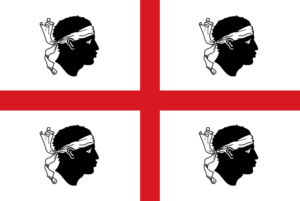 On the Italian mainland, Genoa has used the cross as their flag since at least 1218, though it's thought its use in the Italian north dates back to at least 1113 – Richard I is said to have adopted St. George's Cross from the Italian city. Milan's flag uses the same design but it's attributed to St. Ambrose, the city's patron and its bishop from 374-397AD. Other Northern Italian cities that use St. George's Cross as their flag or coat of arms are: Bologna, Padua, Reggio Emilia, Mantua, Vercelli and Alessandria.
Across the Mediterranean in Spain the Cross of St. George can be found in the flag of Aragon and its provinces Huesca, Zaragoza and Teruel (with their coat of arms in the middle), as well as in the top left and bottom right of Barcelona's flag – the remaining two positions are taken up by the flag of Catalonia hung horizontally.
Bonus Fact: Football clubs Genoa 1893, A.C. Milan and Barcelona incorporate the cross into their badges.
Alex Crouch is a 2014 journalism graduate from Southampton Solent University. He has followed Formula One since before he started infant school, was a Games Maker during the London Paralympics and saw Pink Floyd reunite for one song at The O2 in London. Links: Twitter, blog, YouTube. Alex is an accredited Flag Institute journalist.